Kennards Hire at the Forefront of Sustainability; Integrates POWR2 Battery Energy Storage Solution into Rental Fleet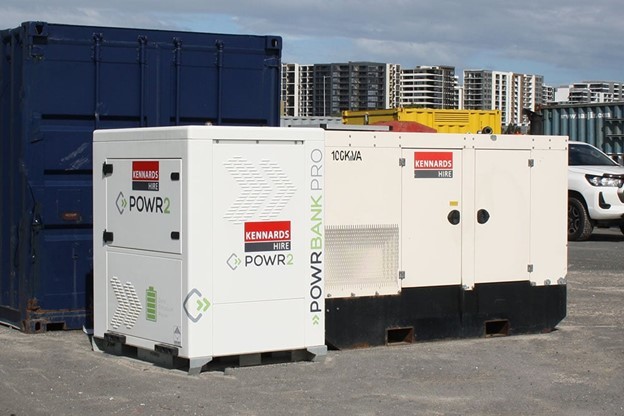 Enables Construction Companies to Reduce CO2 Emissions and Cut Fuel Costs on Job Sites
With sustainability becoming a priority for businesses and individuals alike, customer expectations are shifting towards environmentally conscious solutions. Businesses across various sectors are embracing innovative solutions to minimize their carbon footprint. Two such industries that have taken significant strides towards sustainability are equipment rental/hire and construction. One of Australia and New Zealand's leading hire equipment firms, Kennards Hire, is paving the way with POWR2's POWRBANK battery energy storage solution (BESS). Their customers have seen up to 70% reduction in diesel consumption and CO2 emissions on construction sites when using the POWRBANK.
Embracing Energy Storage Technology, a Market Differentiator
Kennards Hire recognized that incorporating energy storage into their equipment rental fleet would differentiate themselves in the market and attract customers who prioritize sustainability.
"Sustainability targets are common," says Sandra Robinson, Business Development Manager at Kennards Hire. "Companies have goals to reduce diesel usage and it's important that we have equipment solutions to help them."
Traditionally, Kennards Hire's rental fleet consisted of diesel generators. Working with their supplier, Blue Diamond, Kennards identified the POWR2 POWRBANK as the ideal battery energy storage solution (BESS) to complement their existing fleet. The POWRBANK works seamlessly with Kennard Hire's existing diesel gensets. The POWRBANK handles the load, and the generator only runs to recharge the battery. By combining the two, Kennards Hire now offers their customers a clean, quiet, and more efficient temporary power solution.
"There is a real excitement around the more environmentally sustainable energy options we are offering," says Sandra Robinson, Business Development Manager at Kennards Hire. "Being the first in the industry to offer this equipment in Australia, it's exciting be at the forefront of this technology."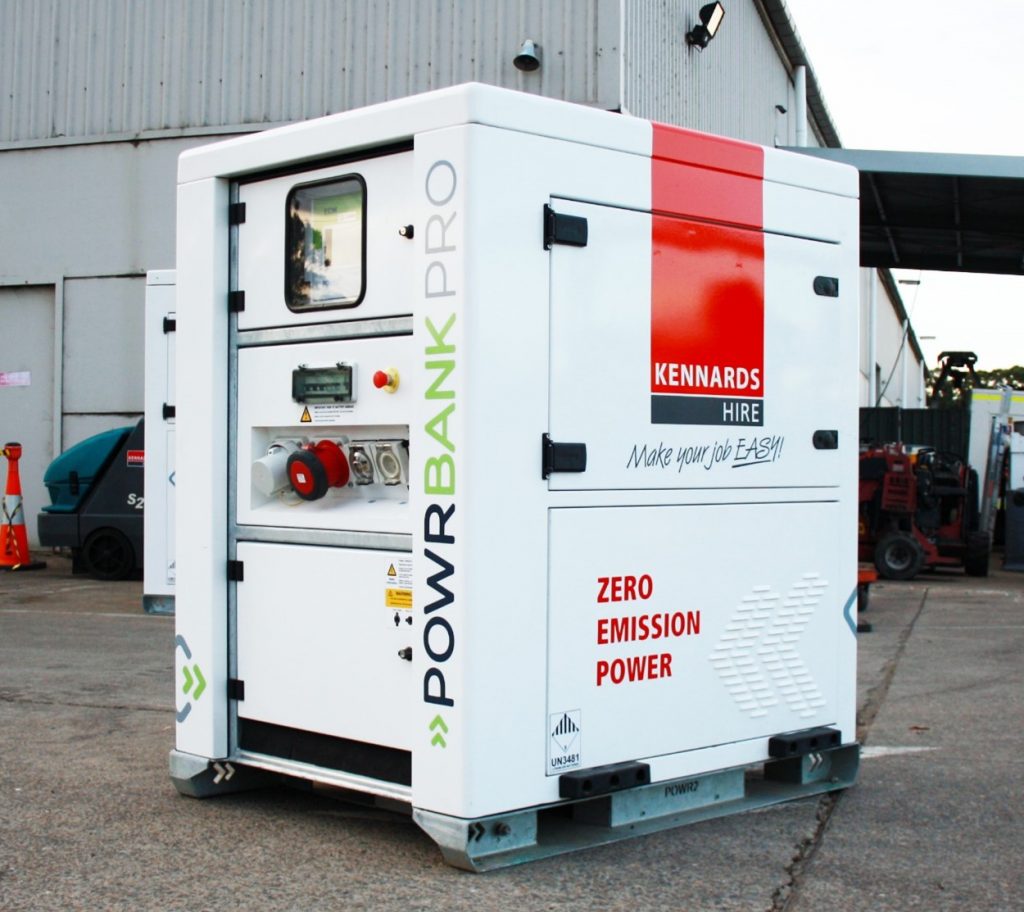 POWR2 POWRBANK BESS
Paul Nicholson, Operational Specialist at Kennards Hire, has been a key player in assisting customers get started with POWR2 BESS solutions. Nicholson explains that the key to success is a solid understanding of the customer's requirements. The Kennards Hire team works closely with customers to understand what they are looking to achieve. With clear goals and power requirements, the team can size the energy storage solution most efficiently.
"Where the POWRBANK really stacks up is in its usability," says Nicholson.
Nicholson describes the POWRBANK as "smart". The onboard energy control module (ECM) provides onsite and remote monitoring and control. The POWRBANK maximizes the use of battery power for the electrical load by automatically switching between diesel and POWRBANK stored energy. The ECM has multiple layers of logic to maximize efficiency and increase the asset life of connected components.
"We put the first POWRBANK on hire about 5 days after we received it," says Nicholson. "That's a credit to the unit because of the simplicity of how it is used. We didn't need a 4-day training course on how to safely operate it."
POWRBANKs are maintenance-free in the field. The only maintenance required is placing the BESS on a trickle charger when it is in storage.
The Challenge
Kennard Hire's recently used energy storage to assist The Acciona Samsung Bouygues Joint Venture (ASBJV) on the WestConnex M4-M5 Link Tunnels project in Sydney. The site needed power 24/7, requiring large quantities of diesel every week and resulting in unwanted noise at night. Kennards Hire recognized that portable energy storage technology could help ASBJV minimize their reliance on diesel fuel and cut operating costs.
The site was using a 150kW diesel generator to power 16 temporary construction sheds that were used for roughly 50 to 60 people working throughout the day. Power was required for lights, computers, AC, and security systems. The load would vary between 10kW and 25kW which meant the team was burning a lot of diesel to run the 150kW generator, plus light loading was causing generator engine damage.
Kennards Hire discussed other options with the ASBJV team. Kennards explained that the use of POWR2 energy storage could reduce the unnecessary fuel burn and eliminate the unwanted noise at night.
The Solution
Kennards Hire, in collaboration with ASBJV, undertook an evaluation process and identified a 45kVA POWR2 POWRBANK as suitable for the site. They included a 100kW generator to charge the battery. This setup considered peak load periods throughout the day and charging time of the battery.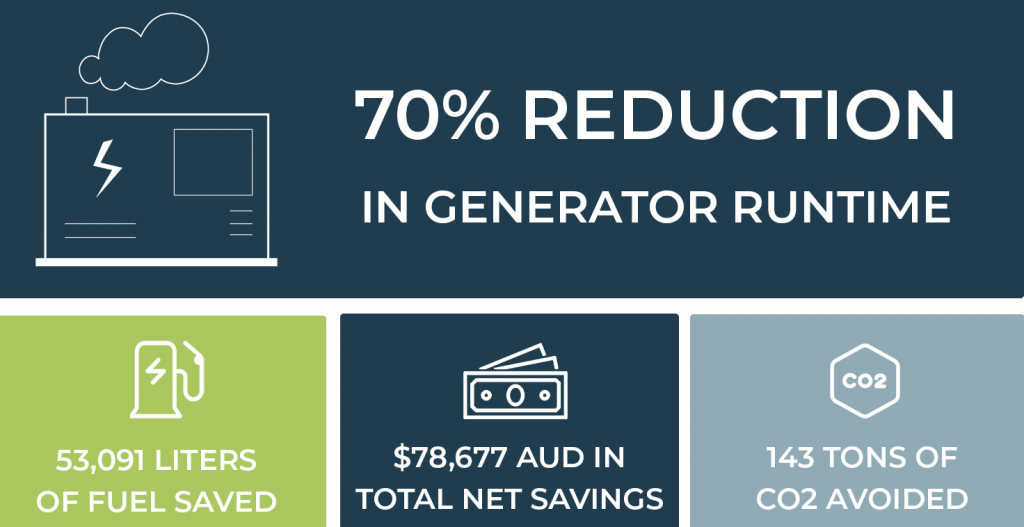 The Results
After just three months with the POWRBANK, the customer reported a 70% reduction in diesel consumption. They went from running a 150kW generator 24/7 to running a 100kW generator just six hours per day. The POWRBANK is charged for three hours, twice a day.
In 12 months, the use of POWRBANK BESS will result in several significant benefits for the construction site:
53,091 liters of fuel saved
143Tn less CO2 emissions
$78,677 AUD total net savings
65% fewer refueling visits
67% less downtime/contractor visits to site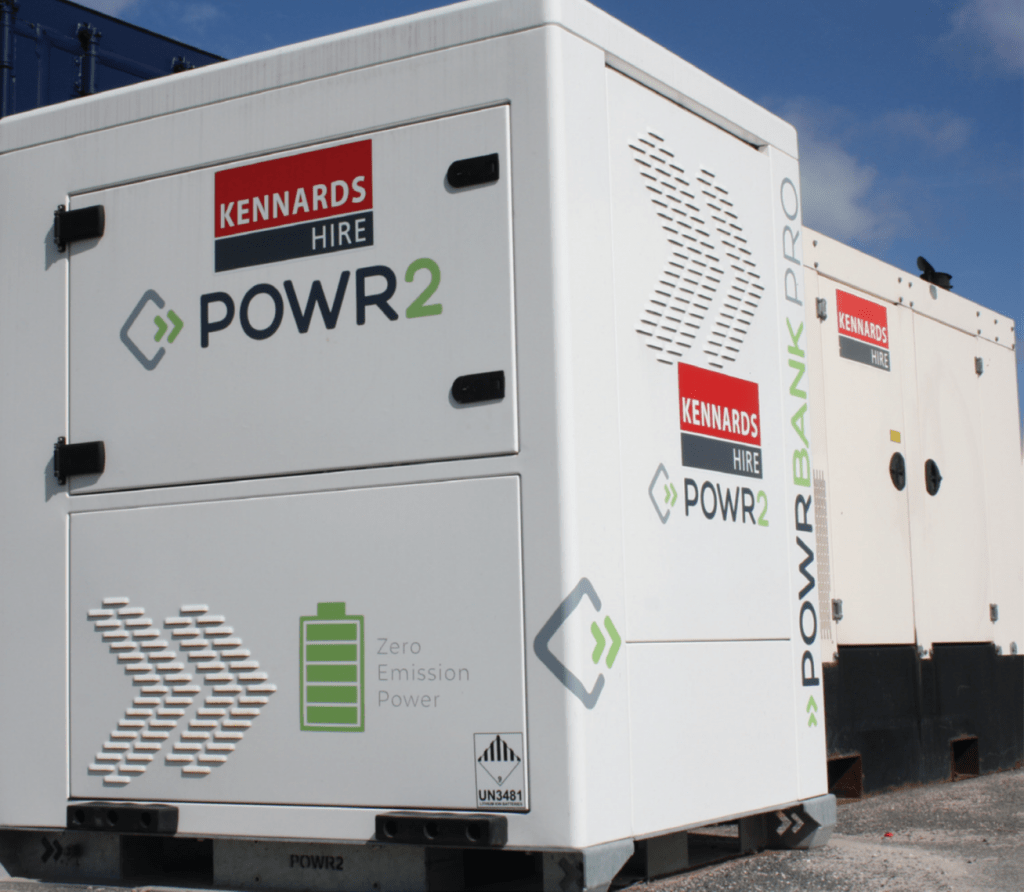 The Path to a Sustainable Future in Equipment Rental
Kennards Hire's adoption of energy storage technology is an example of how businesses can combine profitability with environmental responsibility. They also offer hydrogen generators and are venturing into solar energy to offer customers additional options for cleaner energy. By embracing clean energy technology, rental companies can align their operations with environmental goals, lower costs, reduce dependency on diesel, and attract a growing market segment of eco-conscious customers. Their customers can cut operational costs, reduce CO2 emissions, and improve operational efficiency in the construction industry.
For POWRBANK energy storage solutions in Australia, contact Blue Diamond Machinery
contact