Silent Power
Finding a reliable and portable energy solution that doesn't cause noisy disruptions during events can be a challenge for event managers. The POWR2 POWRBANK provides clean, silent energy. It runs unnoticed in the background so attendees and hosts will have an enjoyable event experience without noise disruptions. The POWRBANK won't cause audio issues in live streams or recordings.
Energy Storage System for Events
POWRBANKs are portable energy solutions. They offer major benefits for event managers and attendees: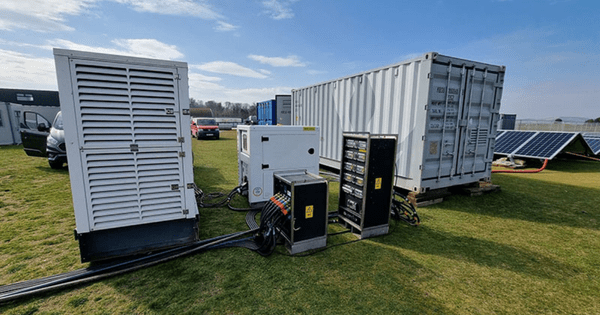 1. Reduce CO2
Lower your event's carbon footprint and make the easy transition to clean energy with significantly reduced CO2 emissions. POWRBANKs can reduce your carbon footprint by up to 80%.

The POWRBANK can provide a complete zero-emission solution when used with a renewable power source. A lower carbon footprint is a major focus for many companies and individuals today. Imagine the attention you would attract by adding "runs on clean energy" to your event promotions.
2. Silent Power for Events
Silent power provides a more enjoyable experience for both attendees and hosts and prevents audio issues in live streams.

3. Plug and Play Power for Events
Once the POWRBANK is set up, it doesn't require any maintenance in the field. It provides clean, reliable power for the entirety of your event. When integrated with a diesel generator, the POWRBANK can be charged in as little as 4 hours, providing 20 hours of consistent clean energy.

4. Reduce Fuel Costs at Events
The POWRBANK drastically reduces diesel engine runtime. In turn, it saves significantly on fuel usage and fuel costs. It also reduces the frequency of generator refueling and maintenance. Plus, it increases generator asset life.

Online Energy Management Software
Keep an eye on your POWRBANK, even while away from the event site. The POWRBANK online portal provides a live look at what is happening, in real-time, just as if you were standing in front of it.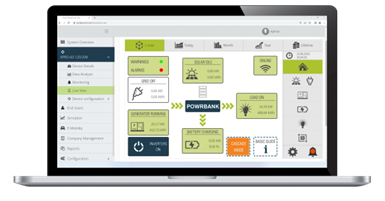 Ask About Silent Power for Events
POWR2 provides silent energy storage systems that are great for any event. You can depend on these solutions to reduce CO2 emissions, cut fuel costs, and provide an event experience without noise disturbance.

Do you have an event coming up and are interested in using a POWRBANK? Contact the POWR2 team today to learn more about how a POWRBANK can benefit your event.